Past Events
Holiday Cheer Open House Nov. 18th & 19th 11am-4pm Visit the wineries of the Okanagan Falls Wineries Association for a festive weekend
each winery will offer holiday gift ideas, food pairings and of course their delicious wines.
Kraze Legz Winery
Cozy up to the fireplace with delectable desserts and wine pairings featuring our port-style wine Rogue.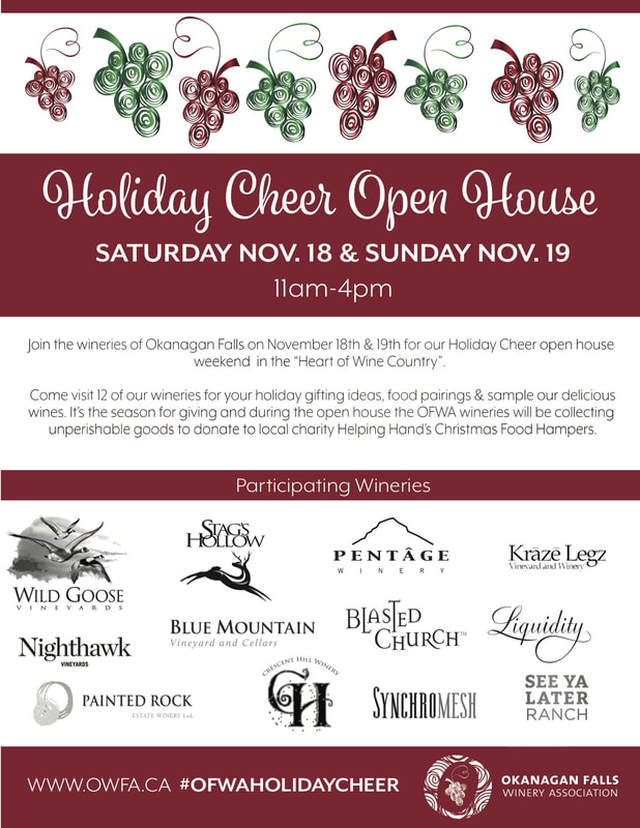 APR 29/ 2017
Okanagan Falls Winery Association Spring Social
by Liquidity Wines
DESCRIPTIONBoasting the Okanagan's most photographed vineyard views, the wineries in and around Okanagan Falls have been producing some of BC's best wines for many years. From vibrant sparkling wines and crisp Rieslings to complex Pinot Noirs and rich Syrahs, there is truly something for everyone.
Hosted at Liquidity Wines on Saturday, April 29, 2017 the Okanagan Falls Winery Association's tasting event will feature newly released wines from 15 of the best wineries in the southern Okanagan. For many of the wineries, this will be the first time that these wines will be shown to the public in the Okanagan.
You'll have the opportunity to taste from and chat with winemakers and leading principals from the amazing wineries of the Okanagan Falls Winery Association while enjoying fantastic bites prepared by Chef Simon Bouchard of Liquidity Bistro.
It's an absolute "don't miss" event!
We hope to see you there.
​Click on link to order tickets
https://www.eventbrite.ca/e/okanagan-falls-winery-association-spring-social-tickets-32243679714
Vancouver Media Event April 6th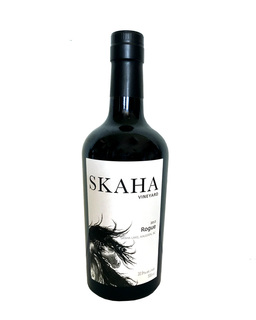 New Release
SKAHA Vineyard 2014 Rogue a fortified merlot with rich amber colour, a silky smooth mouth feel along with aromas and flavours of butterscotch, raisin, ripe cherry and nut.

​Come by the tasting room for a tasting Oct. 1st- 9th wine festival
week.

Kraze Legz Winery
SKAHA Vineyard

Top Awards from 2014 and 2015













Pleased to share our winners from the BC Wine Awards 2014
Gold- Skaha Vineyard Pinot Blanc 2013
Gold - Skaha Vineyard Mystique 2013
Silver- All That Jazz 2011
Bronze- The Cakewalk Merlot 2011
Bronze - The Black Bottom Stomp 2011
Bronze - Skaha Vineyard Merlot Icewine 2013
For all the winners
click here
Skaha Vineyard


This single vineyard series extends the award winning portfolio of red and white wines handcrafted by Sue and Gerry Thygesen at Kraze Legz Winery, and is a tribute to Sue's life long love of horses.
The Cakewalk 2011 Merlot wins Double Gold at The 2014 All Canadian Wine Awards.
Skaha Vineyard 2013 Pinot Blanc - Gold
Skaha Vineyard 2013 Mystique - Silver
Skaha Vineyard 2013 Unoaked Chardonnay - Bronze
Check out all the results from The 2014 All Canadian Wine Championships
The 2015 Cat's Pajamas Cat Calendar will not be released this year, the 2016 calendar will be out the beginning of May 2015.


"Savour The Okanagan" to Benefit VJH Tower of Care

Bourbon Street Bar And Grill is proud to introduce the first annual "Savour The Okanagan" event.

Come and celebrate "Savour The Okanagan" on Saturday July 26th at the Prestige Hotel. Underneath a canvas of sparkling lights, this exquisite evening of wine, spirits and beer tastings is the perfect opportunity to come and explore an array of Okanagan inspired hors d'oeuvres and canapés, show casing delectable local ingredients.

Proceeds of the event will benefit the VJH Foundation's Tower of Care Phase ll campaign to furnish and equip the sixth and seventh floors of the Polson Tower. The $2.5 million campaign will add 60 new state-of-the-art inpatient care beds and vital medical equipment to VJH.

As part of the evening activities, there will be a silent auction and live music by Steve Todd!

Tickets are on sale now at $50 each. Purchase your tickets online at vjhfoundation.org or at Bourbon Street Bar and Grill.